19
Feb
ONCE UP ON A TIME: A STORYTELLING WORKSHOP
February 19th, 2020
Augustine United Church, 41 George IV Bridge, Edinburgh EH1 1EL
ONCE UP ON A TIME: A STORYTELLING WORKSHOP
Wednesday, 19th Feb 2020
Augustine United Church, 41 George IV Bridge, Edinburgh EH1 1EL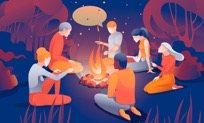 You are invited to open yourself to the power of telling and hearing stories.
Revd Dr Jack Dyce will lead a practical two-day workshop for those who would like to use stories more effectively.
We will consider the value and uses of storytelling in pastoral care and in worship for all ages.
Augustine United Church, 41 George IV Bridge, Edinburgh EH1 1EL
Wednesday 19 February 14.00 to 16.30
Thursday 20 February 10.30 to 12.30 14.00 to 16.30
Cost £20 (including lunch on Thursday)
TO SIGN UP Call Patsi on 0141 248 5382 or email info@scottishcollege.org